Our Hours
Please come in and see us during the following hours:

Open Monday through Friday

8:00 a.m. - 8:00 p.m.
Saturday

9:00 a.m. - 5:00 p.m.
Sunday

9:00 a.m. - 1:00 p.m.
Address: 310 Ridge Road
Mahwah, NJ 07430
Telephone: (201) 785 - 9500
FAX: (201) 785 - 9600
E-mail: pharmacy@gallospharmacy.com
Guidelines for Proper Disposal of Household Medication

Welcome to Gallo's Pharmacy!
Conveniently located at 310 Ridge Road, Mahwah, at the corner of MacArthur Blvd in the New MacArthur Ridge Plaza, Gallo's Pharmacy is the ONLY family-owned and operated Neighborhood Pharmacy in the area providing the personal service you desire and deserve.
Some of Our Products
HEALTH AND BEAUTY AID
SURGICAL SUPPLIES AND DURABLE MEDICAL EQUIPMENT
DESIGNER GREATINGS CARDS

50% Off All Cards, All The Time

YANKEE CANDLES
COSMETICS
SCHOOL & OFFICE SUPPLIES
LARGE GIFT DEPARTMENT
RUSSELL STOVER AND WHITMAN'S CANDY
Your Service Oriented Pharmacy
Prompt, Professional, Personal, Prescription Service
Discreet Medication and Healthcare Counseling
Drug Information Monograph Provided with Each New Prescription
Prescription Refills Available On-line
Prescription Records Accessable On-line
Free Delivery to Mahwah & Ramsey
24/7 Emergency Prescription Service Available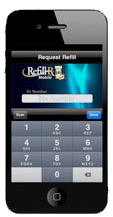 Refill your prescriptions on the go.
We also support RefillRx Mobile to provide you with a one tap solution for refilling your prescriptions. Simply scan the barcode on your bottle and watch as RefillRx Mobile sends your request to our pharmacy.
If a barcode is not available you can also simply enter the Rx number for your prescription and search for our pharmacy by entering (201)785-9500.
Download RefillRx Mobile Today!
iPhone Link
Android Link
REGISTER
register online with us and authenticate your pharmacy refill account. register now »
REVIEW
review your prescriptions, research drug information and see how long your prescriptions are valid for.
REFILL
send in your request online. save time and have your prescriptions ready when you arrive.
SECURE
All your prescription and profile information is delivered through security standard 128bit encryption.